"Sheer Musicality"
-STEREOPHILE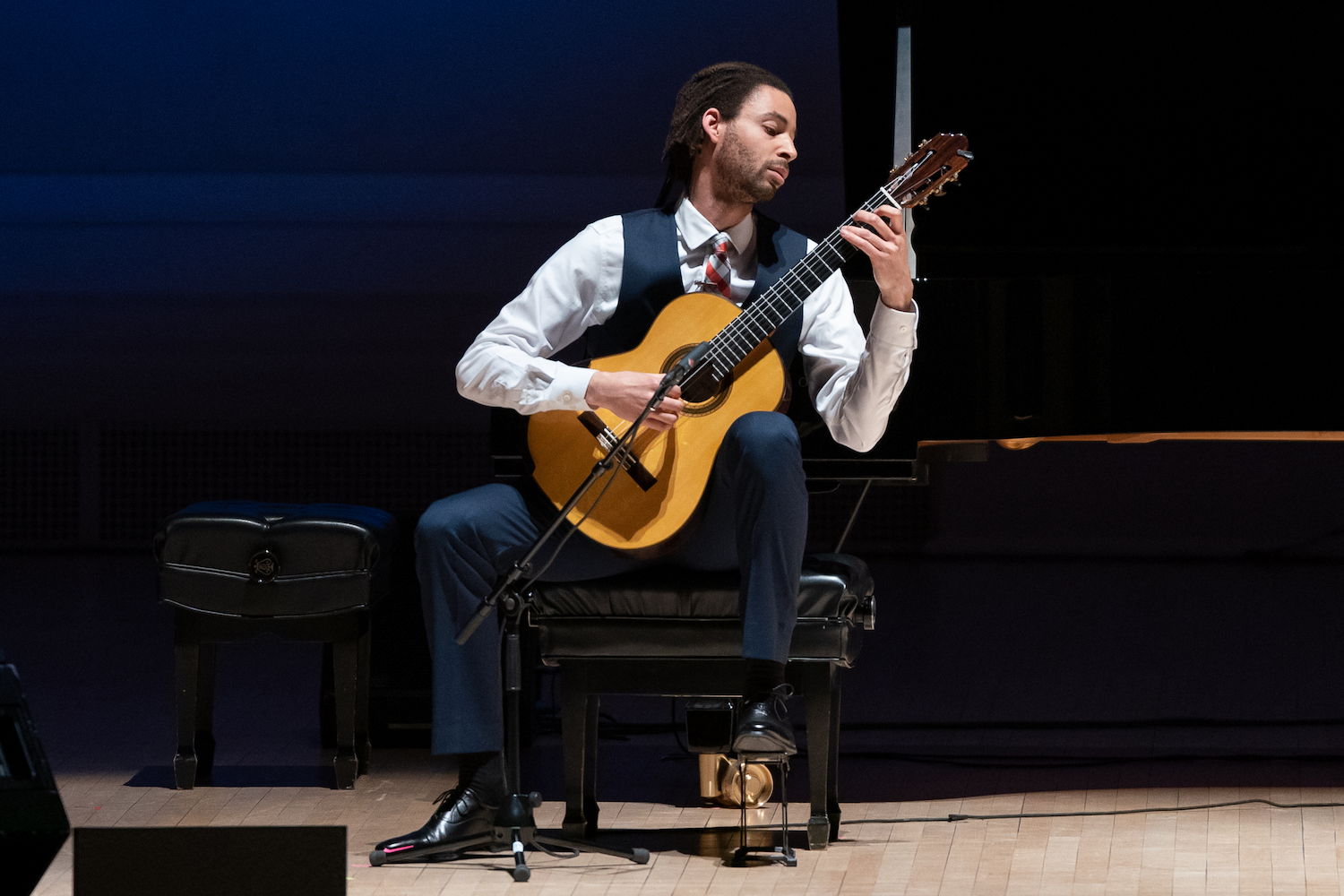 "Truly pathbreaking...greatly satisfying." - All Music
Thomas Flippin is a champion of new-music and equality in classical music. In 2018, his guitar ensemble, Duo Noire, released their internationally-acclaimed album, Night Triptych, featuring "truly pathbreaking" and "greatly satisfying" premiere recordings of works by diverse women composers they commissioned in 2015. It was named one of the Best Classical Music albums of 2018 by both All Music and I Care if You Listen.
Flippin is also a frequent collaborator with Porgy and Bess national tour star Alicia Hall Moran, MacArthur Fellow Jason Moran, and the tour de force American Repertory Theater production The Black Clown. He is a graduate of the Yale School of Music and is an experienced mountaineer.
Produced with GRAMMY-winner guitarist William Coulter and released in 2018 on the New Focus label, the critically-acclaimed album Night Triptych features six new works by highly accomplished and diverse women composers from around the world:
GRAMMY-nominee Clarice Assad, Courtney Bryan, ECM Artist Golfam Khayam, Mary Kouyoumdjian, Gity Razaz, and Gabriella Smith. Available at iTunes, Bandcamp, Amazon, Spotify and elsewhere.
Up Next:
11/16 & 11/17 2019- Flippin performs Concierto de Aranjuez with the Stamford Symphony. Stamford, Connecticut.
4/25/2020 - Hoch Chamber Series featuring Lawrence Dutton of the Emerson String Quartet et. al. Guitar duets w/ Rami Vamos.
06/2020 - Duo Noire performs at the Guitar Foundation of America Convention. Indianapolis, IN.
06/2020 New Commission: Nathalie Joachim of Eighth Blackbird and Flutronix writes a new work for Duo Noire.

Past Events:

8/23/2019 & 8/24/2019 - Duo Noire concerts at the METROPOLITAN MUSEUM. New York City 5pm.
7-24-7/27 - LINCOLN CENTER Mostly Mozart Festival presents: The Black Clown. @ Lynch Theater of John Jay College, NYC. Tickets.

3/30/19 - CARNEGIE HALL main stage - Two Wings: The Music of Black America in Migration w/ Jason & Alicia Hall Moran, Imani Winds, and more.

3/9/19 - Duo Noire with Quince Vocal Ensemble. DiMenna Center for Classical Music. NYC. 8pm.
2/27/19 - The Metropolitan Club, NYC. Diller Quaile School of Music Annual Gala.
2/23/19 - Norton Museum w/ Alicia Hall Moran, Brandon Ross, and J.T. Lewis. Miami, FL.
2/14/19 - The Metropolitan Museum of Art, NYC. Family Benefit celebrating the reopened Instruments Gallery.
11/1/18- Duo Noire feature article in newest Classical Guitar Magazine (Fall 2018), "Who's Afraid of New Music."
11/4/18 - @ Concordia College Osilas Gallery w/ percussion (Yousif Sheronick) and violin (Emanouil Manolov). Works by Lauro, Harrison, Falla et al.

11/30 - Faculty recital. The Diller Quaile School of Music. NYC.

8/31-9/23: Harvard's American Repertory Theater (A.R.T.) production, The Black Clown, based on the poem by Langston Hughes. Featured in the Boston Globe.
6-22-18 - ALBUM RELEASE: Duo Noire's NIGHT TRIPTYCH on New Focus Recordings.